At Cook Martin Poulson, we're committed to helping our clients and blog readers stay abreast of key changes in the tax laws and policies of the state and federal governmental agencies. Tax scams are on the rise, and, like the IRS, our firm is proactively doing everything possible to help keep you informed.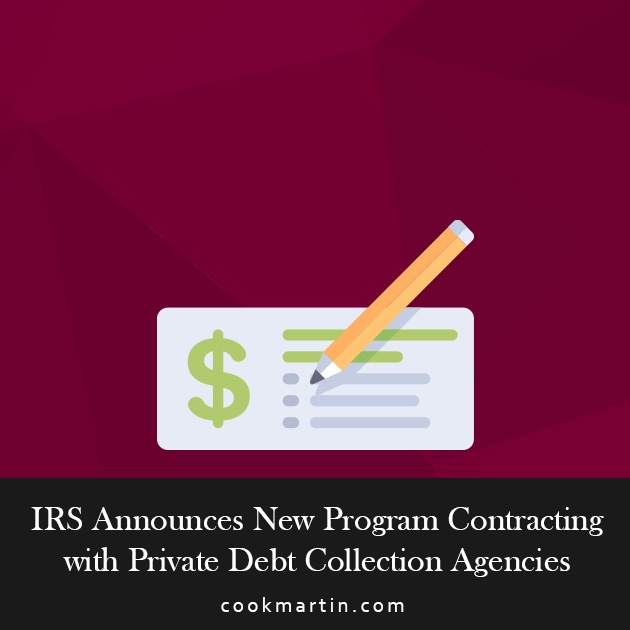 The Internal Revenue Service (IRS) has announced that beginning in the spring of 2017 it will contract with four private debt collection agencies to work on taxpayer accounts that owe money. These will be on taxpayer accounts that include older inactive accounts, overdue tax accounts or accounts the IRS has the lack of resources that prevent them from collecting on.
The IRS will give taxpayers and their representative written notice that their account is being transferred to a private collection agency and will also send a second notice confirming this transfer.
The private agencies will need to identify themselves as contractors for the IRS, and they must follow the rules or provisions of the Fair Debt Collection Practices Act, be courteous, and respect your rights. They also must comply with the Taxpayer's Bill of Rights, which outlines the fundamental rights each taxpayer can expect in dealing with the IRS.
Due to the increased amount of phone scams going around where callers impersonate IRS agents and request payment immediately over the phone, the IRS is trying to be transparent in doing everything possible to avoid confusion.
The private collection agencies cannot ask for payment on prepaid debit cards. According to the IRS website, here are more actions you can expect the IRS will never take:
Call to demand immediate payment using a specific payment method such as a gift card or wire transfer. Generally, the IRS will first mail you a bill if you owe any taxes.
Threaten to immediately bring in local police or other law-enforcement groups to have you arrested for not paying.
Demand that you pay taxes without giving you the opportunity to question or appeal the amount they say you owe.
Ask for credit or debit card numbers over the phone.
Taxpayers will be informed about electronic payment options on the IRS website. You can also send a check directly to the IRS but not to the private collection agency.
The four private agencies the IRS has contracted with are CGE Group in Cedar Falls, IA; Conserve in Fairport, NY; Performant in Livermore, CA; and Pioneer in Horsehead, NY.
Conclusion
For further information, you can visit IRS.gov, "Tax Scam and Consumer Alerts" page. You can also contact Cook Martin Poulson P.C. for more details. It is our pleasure to help you stay abreast of these and the many other complex changes that come with dealing with the IRS.