QuickBooks is the most popular business accounting software for a reason. Its intuitive structure and useful features make it a clear choice. That's why we recommend it to our business clients.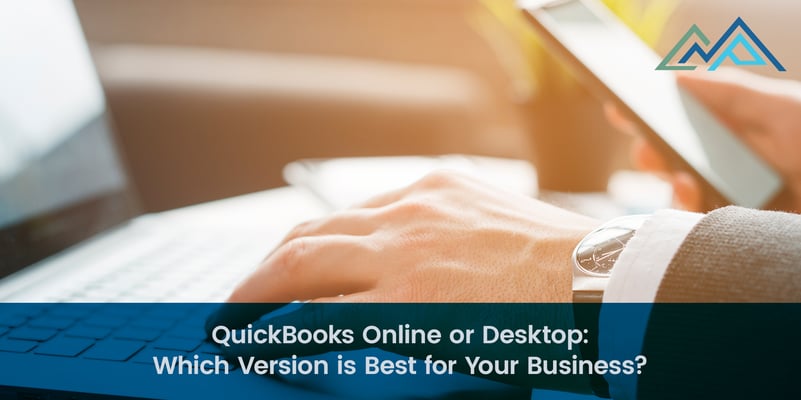 Of course, when it comes to buying QuickBooks, you have options. Specifically, you can choose between QuickBooks Online or QuickBooks Desktop.
At CMP, we think it's important to offer our clients guidance on all issues related to running a business and, in this case, which accounting software to choose. Here's what you need to know.
QuickBooks Online – Features
As we mentioned, the first version of QuickBooks to consider is QuickBooks Online. This is the version of QuickBooks that qualifies as Software as a Service or SaaS. Instead of downloading QuickBooks onto your computer, you access it via a website.
QuickBooks Online offers some different features from the desktop version of the accounting software. Here are some of the key features of QuickBooks Online.
Accessible from Anywhere
One of the most important features of QuickBooks Online is that it's accessible from anywhere. Because it's a subscription service, you can access your account from your home, office, or mobile device. You can also provide your login information to any employee who needs it and designate up to 25 users.
Automatic Backups
When you use software that's downloaded onto a computer, you must do a backup regularly – ideally every night – to avoid losing your data. That's an extra task on your to-do list. However, with QuickBooks Online, data is backed up automatically.
Easy Software Integration
You may use one or more industry-specific tools in your business accounting. For example, you may use software to calculate sales taxes. One of the best features of QuickBooks Online is that it's designed to integrate easily with other software, streamlining your job and minimizing the chances of accounting errors.
Automatic Invoicing
Do you have clients you invoice regularly? If so, then QuickBooks Online makes it easy to automate invoicing by setting up and automatically sending invoices according to your timeline. This is a feature that can be a huge time-saver and it isn't available on QuickBooks Desktop.
Enhanced and Full-Service Payroll
If you're worried about making payroll errors, QuickBooks Online offers some features that will help your business avoid them. For an additional cost, you can choose either Enhanced Payroll or Full-Service Payroll options that will do things like run payroll, manage direct deposits, and even calculate and pay federal and state taxes for you.
Other Features
Other features included with QuickBooks Online include:
Instant file access for accountants

One-click sales and tax reports

Automatic download of bank transactions

Phone and chat support

Automatic software updates ( no need to upgrade)
These are the things that differentiate QuickBooks Online from the desktop version.
QuickBooks Desktop – Features
QuickBooks Desktop is accounting software that you download to a computer. It differs from QuickBooks online in that it:
Is only accessible from the computer where it is installed

Requires you to do regular backups
Of course, there are some features that make QuickBooks Desktop a perfectly functional choice for small business owners. Here they are.
Professional Invoices
You can use QuickBooks Desktop to create professional-looking invoices and track them. You'll need to manually enter your customers' data, but once you do you can easily create new invoices using QuickBooks' interface. (This feature is included with QuickBooks Online, too.)
Track Sales and Expenses
You must track your company sales and expenses to maintain accurate books. QuickBooks Desktop allows you to track all your spending and income with easy-to-understand menus. (Also available with QuickBooks Online.)
One-Click Sales and Tax Reports
One of the built-in features that make QuickBooks ideal for small business accounting is that it comes with an array of reports that you can run to keep track of your finances. Some examples include:
Income reports

Profit & loss reports

Sales tax reports

Withholding tax reports
These reports mean that you'll spend minimal time trying to crunch your company's numbers. All reports are also available with QuickBooks Online.
Track Accounts Payable
Paying your outstanding invoices on time is essential if you want your business credit rating to be high. QuickBooks allows you to easily log your accounts payable, schedule invoices for payment, and run checks. This feature is also available with QuickBooks Online.
As you can see, QuickBooks Desktop has the tools you'll need to manage your business accounting. However, it doesn't have the same flexibility as QuickBooks Online.
Which is Best for Your Business?
How can you decide whether QuickBooks Online or QuickBooks Desktop is best for your business? Here are some advantages of QuickBooks Online, starting with the pros:
Accessible from anywhere

Up to 25 users

Automatic backups

Automation features

Automatic updates

Easily integrates with 300+ apps and software
There are a few cons to consider:
Some companies may prefer not to have sensitive financial information in the cloud

Subscription prices may add up to be more expensive over time than a flat software fee
Now let's check out the pros of QuickBooks Desktop:
One-time software licensing fee allows you to download QuickBooks onto three computers

Less risk to data since it's not in the cloud
However, there are some significant downsides to QuickBooks Desktop:
You'll need to pay for software updates regularly

You'll need to maintain your own backups

You won't be able to access your accounting information remotely

Lack of automation makes the desktop version more susceptible to human error
We think that for most businesses, the online version is preferable thanks to its automation features and increased functionality. However, if you prefer the security of doing your own backups and would prefer not to take on a monthly subscription, the Desktop version may be your best bet.
Conclusion
QuickBooks is useful accounting software that can help any business. We suggest that you weigh your company's needs against the features of QuickBooks Online and QuickBooks Desktop before choosing the option that's best for you.
Would you like assistance with your QuickBooks accounting? CMP offers comprehensive QuickBooks consulting services for all of our clients.