This post was originally published January 13, 2016, and extensively updated on Nov 1, 2022.

Are you looking for an accounting and bookkeeping solution for your small business? It is often hard for business owners to find software that meets their business requirements as well as their budget. However, there are tools out there. We have put together a list of 10 software products that can help your small business succeed.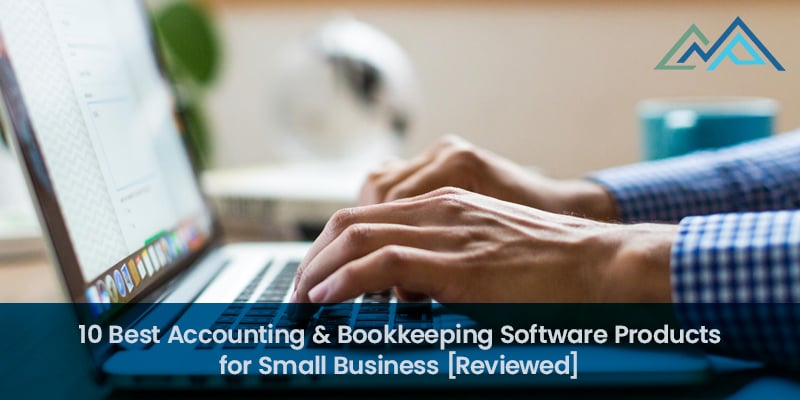 At CMP, we believe accounting software should be user-friendly and intuitive to make running a business as easy and stress-free as possible. In this post, we start by talking about why you might need accounting & bookkeeping software, how much it costs, and the criteria we used to choose software to review. With the exception of QuickBooks Pro, all are cloud-based accounting solutions and offer monthly subscriptions.
What is Accounting & Bookkeeping Software?
Accounting and bookkeeping software for small businesses is software you can use to keep track of your business finances. The best options are those that allow you to do the following:
Set up accounts and make journal entries

Link to your bank accounts

Pay bills automatically

Create invoices & send them

Log payments & expenses

Run reports


There may be additional functions you need depending on the nature and size of your business. You want software that makes the work of running a business easy and intuitive, freeing you up to do other things.
Who Can Benefit from Using Accounting and Bookkeeping Software?
Any business can benefit from using accounting and bookkeeping software. Even if you are a sole proprietor, you have work to do that can be simplified with the right software. For example, you may have clients who require recurring invoices. You can set those up to run automatically with accounting and bookkeeping software.
Medium-sized and large businesses can also benefit from using accounting software. It can be used to streamline data entry, track accounts payable and receivable, manage payroll, and keep journal entries up to date. It is also ideal for running reports to help you meet your short-term and long-term business goals.
Is Online Accounting Software & Bookkeeping Software Secure?
Some of the most common questions we hear about online accounting software are about the topic of security. If you are going to store your accounting information in the cloud, you need to be confident that your data is safe.
Online accounting software & bookkeeping software is secure. The companies we have reviewed here have all taken precautions to safeguard their clients' information. In many ways, storing data in the cloud is safer than storing it on a device. Device storage can be wiped out if the device fails or if you lose your laptop or tablet. With cloud storage, you can access your information from any device, in any location.
Is There Free Accounting & Bookkeeping Software?
When you are running a small business, it may be necessary to put price first when it comes to choosing accounting & bookkeeping software. You might be wondering if there are free options available.
The answer is YES, there are. The thing you need to keep in mind is whether you will get the functions and capabilities you need with free software. If you need something basic to tide you over until you can afford premium software, then it's certainly preferable to use a free version than to avoid keeping track of your finances. We have included 4 free versions in our reviews along with several low-cost options.
How Much Does Accounting & Bookkeeping Software Cost?
The cost of accounting and bookkeeping software can vary from product to product. As we stated above, there are free options that offer limited features. Many of the options we have reviewed have tiered pricing, with a low-price option for small companies with only a few users, all the way up to enterprise-level pricing for large corporations.
The pricing of the plans we have reviewed ranges from $6 per month up to $90 or more per month. Many companies offer discounts on the monthly rate if you pay annually. This is something to keep in mind if you need to limit how much you spend. You can review prices and compare them in the table we have included at the end of this post.
How We Chose Bookkeeping & Accounting Software for Small Businesses to Review
When it came time to do accounting software reviews, we focused on options that had solid features that would apply to most businesses, including both small businesses and large enterprises. Companies on a limited budget should still be able to find software that offers intuitive methods for paying bills, invoicing clients, and tracking accounts.
We also focused on finding software at a range of prices, making sure to include low-priced options and tiered options. Security was another priority since our clients are always concerned about keeping their data safe.
Accounting & Bookkeeping Software for Small Businesses


1. QuickBooks Online
QuickBooks Online is solid accounting software with several excellent features. It was built to be intuitive and easy to use. Setting up an account is simple. The interface is laid out in an organized fashion, making it easy to find whatever you are looking for. All in all, the software doesn't require you to have accounting experience.
While QuickBooks Online isn't quite as powerful as QuickBooks Pro (reviewed later), it has everything a small business needs and is cloud-based. The company updates the software regularly, with new features being added all the time. It is easy to share information with your accountant.
The price for QuickBooks Online is high compared to some of the other options we will review, but it's a good option if you want an easy user interface.
Price
QuickBooks Online offers a three-tier pricing plan and includes a free 30-day trial. You pay monthly and can cancel your subscription at any time.
Simple Start ($30/month): Create invoices and estimates, plus reconcile bank transactions. You are limited to one user, and you can share data with up to two accountants.

Essential ($55/mo): Includes 3 users, bill management, and entering time.

Plus ($85/month): You can have up to five users with this package, and you also get an accounts payable function to track and pay bills.

Advanced ($200.00/month): Receive added inventory support, plus you can prepare 1099s. You may add up to 25 users with full functionality, plus unlimited users who can only view reports or edit timesheets.
2. Xero
Xero's cloud-based program features account management, invoices, billing, expense reporting, and payroll. It also integrates with 1,000 other applications, allowing you to add functionality based on your needs. The interface is clean and user-friendly. The company updates the product every 3-6 weeks based on user feedback through their community forum. They also have good customer service.
Xero is headquartered in New Zealand but supports customers in the United States. Since the software is cloud-based, there is no hassle downloading a program to your computer. The company caters to small to mid-sized businesses. They make it easy to import data from other accounting systems.
Price
The full version of Xero is free for 30 days. After that, there are three pricing tiers. You pay monthly, and you can cancel anytime.
Early ($13/month): Recommended for freelancers, the starter tier allows you to process 20 invoices and 5 bills every month. You can also reconcile bank transactions, capture bills, and send quotes. Online file storage is included with all plans.

Growing ($37/month): Suitable for small businesses, the standard tier allows the user to process unlimited invoices and bills, plus reconcile weekly bank statements. You can also bulk reconcile transactions.

Established ($70/month): In addition to everything in the standard plan, you get support for multiple currencies, the ability to claim expenses, and access to in-depth analytics.

With all plans, you have the option of adding Payroll with Gusto for $39 per month.
3. Zoho Books
Zoho is a suite of products that businesses can use including Zoho Books. It has a growing focus on SaaS for small to mid-sized businesses. Zoho Books launched in 2011 and has changed rapidly over the last few years to meet the demands of its clients.
While Zoho has all the applications a business could need, its integration with outside apps continues to be limited. Their integrated payroll feature is available only to clients in California, New York, and Texas. However, its invoicing feature is among the best in the business. It serves well as an accounting and invoicing solution for small businesses.
Price
There are four pricing tiers available after a free 14-day trial. As with most SaaS products, there is no contract, and you pay as you go. (The pricing below is the 'billed annually' price)
Free ($0/month): The free option is available for businesses with less than $50,000 in annual revenue. You can use it yourself and give access to one accountant. It allows you to send up to 1,000 invoices per year and has an impressive array of features.

Standard ($10/month): This includes up to 5,000 invoices, as well as estimates and expense tracking for up to three people. You can also add an accountant to review your accounts. You get all the features included in the free version plus web, voice, and chat support and the ability to customize fields.

Professional ($20/month): This version has unlimited invoicing, accounts payable function, and multi-currency capabilities. You can have up to five users and use it to track inventory, purchase orders, and timesheets.

Premium ($30/month): Subscribers get added support for inventory and purchase orders. Plus, they can add unlimited users and contacts, get a dedicated domain and vendor portal, and custom functions and schedules.

Elite ($100/month): Everything above, 10 users, plus cashflow forecasting and more.

Ultimate ($200/month): 15 users, 25 custom modules.
4. FreeAgent
FreeAgent's software is simple to use. The program allows small business owners the ability to manage their own finances. It offers double-entry bookkeeping along with basic expense tracking and invoicing software. You can also use it to send estimates, track expenses, and monitor employee timesheets.
Setup is quick, and you can be sending your first invoices out in minutes. There are automated invoicing options available that can help you save time, and they have a generous referral program available to users.
FreeAgent was developed by a freelance IT consultant. In 2013, FreeAgent won the Software Satisfaction Awards for Small Business Accounts as well as Expense Management. While initially targeted at UK users, the company now also has a US version available.
Price
There is a free 30-day trial. There are no contracts, and you can cancel at any time. For customers in the United States, the plan is a flat $24 per month. This includes all features and services. Different countries have different pricing plans, so remember to check the website for the most updated information.
5. Wave Accounting
Wave Accounting, a cloud-based program for small business accounting, made its appearance in 2010. Unlike the other market players, the software is free to use. The company intends to make small-business accounting fast and simple.
Over the last few years, Wave has added an iPhone invoicing app, a customer statements feature, and improved its payroll features. The software focuses on businesses with under ten employees. Since it is free to use, it does lack some features you would find in paid software.
Price
Wave Accounting is free to use for accounting and invoicing. It is supported by advertisements within the program. You can add Wave payments on a per-transaction basis and Wave Payroll for a monthly fee. You can also use it for payroll, which starts at $40 per month.
6. Sage Business Cloud Accounting
Sage started as a single accounting program and, while the company has grown immensely since it started, they continue to provide an innovative accounting product.
Sage Business Cloud Accounting is the most basic accounting program offered by Sage. Focused on simplicity, this program has some of the best reporting and sales tax features available. You can send invoices automatically, accept payments with Stripe, and get one-on-one sessions with a Sage accountant if you have questions or need help setting up your accounts. We should note that customers wish for better support for technical issues.
Price
Sage offers a free trial. After that, the Sage Accounting Start plan is just $10 a month and offers limited features, including invoicing and automatic bank reconciliation.

The Sage Accounting Plan is $25 per month and allows you to send quotes and estimates, track receipts, and forecast cash flow.

Payment is month to month and there is no contract.
Tax records vary for everyone, and the specific details will depend on your current situation. For example, you might need different documents if you're living abroad or if you expect to earn more from your job this year. This blog post: Receipts for Taxes: Receipts You Should Keep for Taxes, give you a good idea of the documents you'll need to keep on hand for tax time.
7. QuickBooks Pro
QuickBooks Pro is the desktop software offered by Intuit. While the company now pushes its QuickBooks Online software, QuickBooks Pro has its core user base that loves its features and layout. Long considered a gold standard in accounting software, it offers solutions to companies that most cloud-based software cannot meet.
While the software is more complex than most cloud-based software, it is also directly installed onto a computer. This means that there is just the upfront cost of the program itself. It is considered one of the most feature-rich software programs out there. Remember that since it isn't cloud-based, you can only access it on a single computer.
Price
QuickBooks Pro offers two pricing tiers. The prices include patching and updates as well as automated data backup and recovery.
QuickBooks Desktop Premium Plus 2022 costs $799 per year and collaboration with 5 users.

QuickBooks Desktop Enterprise costs $1,340 per year and gives you access to industry-specific versions of the software plus an array of premium features, including up to 40 users.
8. FreshBooks
FreshBooks was one of the first cloud-based accounting software programs to make accounting easy for the average person. Before it launched, most accounting software used the same complicated accounting language only understood by those working in the world of finance. FreshBooks is designed to be suitable for freelancers and small and large businesses.
The user interface of FreshBooks is easy to understand and visually pleasing. While FreshBooks started as invoicing software, it now offers expense and time tracking, mileage, financial reports, and other features.
Price
FreshBooks offers a free 30-day trial. After that, there are four plans to choose from. All plans include invoice tracking and customization as well as rock-solid security. They often run specials with a discount when you get started.
Lite ($15.00/month): Unlimited invoices, expenses, and time tracking. You can bill up to five clients.

Plus ($30.00/month): Everything that is included in Lite, but you can bill up to 50 clients.

Premium ($55.00/month): Everything that is included in Plus, but you can bill unlimited clients. You can also manage Accounts Payable, track project profitability, and get email templates and signatures.

Select (custom pricing): Everything that is included in Premium, plus you can remove FreshBooks advertising from invoices and customize features.
9. Less Accounting
Less Accounting grew out of frustration at the types of financial management software available on the market. While Less Accounting software lacks QuickBooks Online's elegance and features, it isn't trying to compete with QuickBooks.
Instead, Less Accounting considers it an alternative for businesses that only need the most basic accounting features: income and expense tracking, invoices and proposals, mileage tracking, reports, and double-entry accounting. It also offers integrations with financial institutions.
Price
Less Accounting has three payment tiers.
Invoice Only is their free plan and allows you to invoice up to 3 active customers and accept payments with Stripe, PayPal, and Squire.

The Lite plan is $24 per month and allows you to invite your accountant, send unlimited invoices, create budgets, and pay taxes.

Finally, the Team plan is $36 per month and allows you to send recurring invoices, track employees' time, and generate advanced reports.
10. Kashoo
Kashoo was created when founders Dobes Vandermeer and May Chu decided to make a simpler solution for small business accounting.
Kashoo aims to be simple. They provide basic accounting features and want to make it simple for business owners to manage the accounting themselves. They offer features like bank imports, reporting, invoices and expense reporting, cash flow, payroll integrations, tax reporting, and data exports.
It is the perfect software for businesses that do not need inventory management within the software.
Price
Kashoo offers three pricing tiers that are designed for businesses of varied sizes.
Trulysmall Invoices is their free plan, which offers the ability to send invoices, track payments, and send estimates.

Trulysmall Accounting ($20 per month) is a full accounting program for small businesses, with invoicing, payment tracking, ledger entries, and tax reports.

Kashoo ($30 per month) is an advanced accounting program for medium and large businesses with all the features of the other plans plus inventory, payroll, and advanced reporting.
Ten Accounting & Bookkeeping Software Services Compared
COMPANIES
PRICES
QuickBooks Online

Simple Start ($30 / month)
Essential ($55.00 / month)

Plus ($85.00 / month)
Advanced ($200.00 / month)

Xero

Early ($13.00 / month)
Growing ($37.00 / month)
Established ($70 / month)

Zoho Books

Free ($.00 / month)
Standard ($10.00 / month)
Professional ($20.00 / month)
Premium ($30.00 / month)

Elite ($100.00 / month)
Ultimate ($200.00 / month)

FreeAgent

$12.00 per month for the first 6 months;
$24.00 per month after that

Wave Accounting

Free to use; Wave Pay and

Wave Payroll can be added for $40 per month

Sage One

Sage Accounting Start ($10.00 / month)
Sage Accounting ($25.00 / month)

QuickBooks Pro

QuickBooks Pro Desktop Premium
($799.99 / year)
Enterprises 22.0 ($1,340 / year)

FreshBooks

Lite ($15.00 / month)
Plus ($30.00 / month)
Premium ($55.00 / month)
Select Custom Pricing

Less Accounting
Invoice Only free
Lite ($24.00 / month)
Team ($36.00 / month)
Kashoo

Trulysmall Invoice free
Trulysmall Accounting ($20.00 / month)
Kashoo ($30.00 / month)
Need Help Choosing Accounting & Bookkeeping Software?
Choosing the right accounting & bookkeeping software is necessary for every business. The reviews here should help you evaluate your options and select the software that is best suited to your business needs.
Do you need help choosing business software for your company? We are here to help!
Small-business owners should take advantage of tax credits to help save money. Tax credits are a great economic tool that can help you to reduce your taxable income and make a huge difference in your annual tax bill. But you may not be aware of the wide range of tax credits that are available to you. Here are: 13 Small Business Tax Credits in 2022 You Shouldn't Overlook