Paying federal and state income taxes isn't anybody's idea of a fun time, but it is your duty to pay your taxes and file your tax return. If you're someone who itemizes deductions, then you will need to provide proof of deductions in the form of receipts.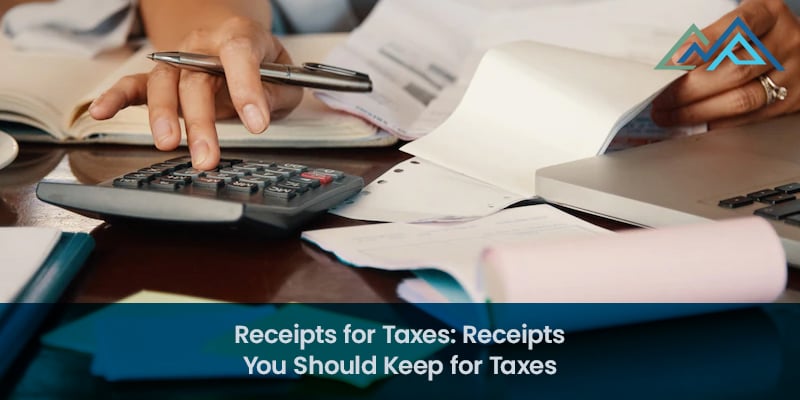 At CMP, we help our clients with their taxes, including ensuring they take all available tax deductions and have the receipts to back up those deductions. With that in mind, here's our guide to which receipts to keep for your income tax returns.
Do You Need Receipts for Taxes?
Receipts represent proof of payment for an item or service. If you have never itemized, you might imagine that you need to attach receipts to your tax forms. In fact, that's not the case--but you should keep receipts for any personal or business transactions related to the deductions you take.
You need to keep receipts because you'll need them if you are the subject of an Internal Revenue Service audit. You should have paperwork to prove that any deductions you took were legitimate.
Both individuals and business owners should keep receipts. Many business activities are tax deductible, including things like meals for clients and purchases of office equipment and supplies. Having receipts on hand will minimize the risk that you'll take a deduction you can't back up and make an audit far less stressful than it could be without receipts.
Which Receipts to Keep for Taxes for Individuals
Before you destroy any tax records you might need to show the Internal Revenue Service, let's review the receipts you should keep for tax purposes.
Keep in mind that if you only take the standard deduction, you do not need to worry about keeping receipts for the IRS. This advice only applies if you have deductible expenses. We recommend that if you itemize deductions, you should keep receipts by category. Some categories you group your receipts in could include:
Medical Expenses
If you have deductible medical expenses, you can save money when tax time comes around. A qualified medical deduction can include expenses paid for you, your spouse or domestic partner, your dependents, and your children, provided you did not claim them as dependents due to a separation or divorce agreement.
Here are the medical expenses you may deduct and therefore need receipts as proof of payment.
Insurance premiums for medical, dental, vision, long-term care, and Medicare Part B or Part D insurance that wasn't paid using pre-tax dollars.
Copayments for medical, dental, or vision care, including office visits and prescriptions.
The cost of medical equipment, including eyeglasses and contact lenses, prescription drugs, crutches, hearing aids, braces, wheelchairs, breast pumps, and lactation aids, plus any costs associated with a trained guide dog.
Medical exam or test fees.
Alternative healthcare, including expenses for acupuncture, chiropractic services, mental health treatment with a psychologist or psychiatrist, podiatry, and physical or occupational therapy.
Hospital stays, nursing care, smoking cessation programs, and weight loss programs prescribed by a doctor.
Transportation expenses associated with trips to and from any of the above medical professionals, including tolls, parking fees, and mileage; transportation via ambulance; and expenses related to overnight hotel stays if you receive treatment out of town.
If you keep medical receipts, tax deductions will be easy to make and can minimize your financial burden if you've spent a lot on medical treatments. Hopefully, you have an HSA that can help minimize your tax liability for these medical expenses.
Charitable Donations
Donations you make to qualified charitable organizations and nonprofits may be eligible for a tax deduction. You should request and maintain receipts for all donations.
As a reminder, only donations made to 501(c)(3) nonprofits are tax deductible. You must have made the donation without getting anything in return. In most cases, you may donate up to 50% of your adjusted gross income.

Childcare Expenses
Some dependent care expenses may qualify for a tax credit, including money paid to a daycare provider, babysitter, after-school program, or day camp. You may qualify for a credit if childcare is provided in your home, with additional expenses such as the cost of a cook, house cleaner, or housekeeper who cares for your child or dependent while providing other services.
The Internal Revenue Service would allow you to claim the credit only if you paid them to allow you or your spouse to work or find work. You may qualify only if both you and your spouse have earned income. The only exceptions are if your spouse is either a full-time student or disabled.
There are two qualifications for dependents under this rule. If you have a child under 13 who you claim as a dependent, a disabled dependent or spouse who is unable to care for themselves, you can claim the credit. If you do claim the credit, be sure to keep all receipts associated with childcare or dependent care.
Have you been paying childcare costs that are taking a big chunk of your earnings? If so, we recommend reading this post: Everything You Need to Know About the Child Tax Credit - learn how this tax credit can help you financially afloat while juggling life and raising kids.
Receipts for Large Personal Purchases
In most cases, you can deduct your state and local income taxes when you file your federal tax return. However, if you have made a large purchase during the year, there is an alternative.
If you bought a boat, RV, or some other large item where the sales tax was higher than your state and local income tax, you have the option of deducting your sales tax instead when you file your federal tax return. If you choose to exercise this option, you will need to keep the receipt as proof that you paid the sales tax in question. There is a cap of 10,000 on this amount.
Which Receipts to Keep on Hand if You Own a Business or Are Self-Employed
We've covered the receipts to keep for your individual income tax return, but there are some additional items that become important if you either own a business or work for yourself.
Self-Employment Expense Receipts to Keep
Self-employed people have additional tax obligations because they must pay both the employee's and the employer's portion of Medicare and Social Security taxes. However, many expenses related to self-employment are deductible, including the following.
Supplies
Materials
Office expenses
Insurance
Travel
Marketing
Utilities
Rent or mortgage (if you work from home and have a dedicated office space)
We suggest saving every receipt related to your self-employment because many of these expenses are likely to be tax deductible.
The $75 Receipt Rule
One of the questions we often get asked is about the threshold for maintaining receipts on hand. If you're a business owner, for example, you might wonder if you need to hold onto a receipt for $10 or if you can get rid of it.
The general rule used by the Internal Revenue Service is that taxpayers should be able to produce any receipt for more than $75. There are a few exceptions when you should keep a receipt for less than $75--for example, if you're a business owner, you should keep all receipts for expenses related to entertainment, overnight lodging, or a listed property. If you're deducting travel expenses related to medical treatment, then you may want to label your travel receipts with some notes about the treatment and where you received it.
We should note here that if you choose not to keep a receipt that's less than $75, you will still need to keep some record that indicates what the expense was and why it's deductible. If you deduct the expense and you get audited, the IRS will expect you to be able to document that purchase or expense in a general way, even if you don't have a receipt.
Some people prefer to keep all receipts. If that provides you with peace of mind when you file your taxes, you can, of course, choose to do so. We'll talk later about how long you need to keep receipts for any deductions you itemize on your taxes.
Can I Use Bank Statements as Receipts for Taxes?
In some cases, you may be able to present a bank statement or a credit card statement as a receipt for taxes if you are audited. However, there are some exceptions, and you should know what they are.
According to the IRS, the following items must be documented at the time of your purchase and may not be recreated after the fact.
Travel and Transportation
Entertainment expenses
Mileage
Charitable donations
If you lose a receipt and get audited, your bank statement can serve as a backup in many cases. Technically speaking, an IRS auditor could deny your deduction if you don't have a receipt. However, if you can provide some reasonable reconstruction of the deduction, many auditors will allow it.
We should note that there are some potential issues with relying on statements. For example, you may have bought office supplies at Best Buy, but without a receipt, there's no way to prove that the money you spent wasn't for a gaming console.
How to Organize Receipts for Taxes
Since the IRS has the right to audit a tax return going back six years, it's essential to maintain receipts to ensure you have them if you need them. Here are some pointers to help you organize your receipts for tax purposes.
First, we suggest making notes on receipts if the deductible nature of the expense is not clear. For example, it's easy to understand why you bought three cases of paper at an office supply store, but you may not remember which client you entertained at your favorite Cajun restaurant three years after the fact. Jotting down the names of the attendees and the purpose of the meal on the back of the receipt will ensure that you have the information you need.
We also recommend either photographing or scanning receipts in addition to keeping paper copies. Receipts, particularly those printed on thermal paper, may fade over time. Getting audited is stressful enough without adding an illegible receipt to the mix. You may choose to scan your receipts and store them electronically or take photos. Either way, make sure to include a photo of the back if you have made notes. This step will not only protect you against faded receipts, but it will also serve as backup if a flood or fire damages your records.
If you are being audited, it's important to work with a qualified CPA or tax audit firm. Undergoing an audit on your own is not recommended and could result in you having stiffer penalties than you should.
Finally, it can be beneficial to maintain a detailed calendar for your business where you can make notes about deductible expenses. If you were to misplace an entertainment receipt but could show an appointment in your calendar that corroborates the expense, a reasonable auditor may still allow your deduction.
Of course, receipts should also be organized by category as well as by date. Many business owners choose to create subcategories. For example, you might keep your utility bills together, and so on.
How Long Should You Keep Receipts for Tax Purposes?
A lot of tax experts will tell you that you should keep receipts for tax purposes for three years from the date you filed or two years from the date you paid your taxes, whichever is later. However, as we noted above, the IRS has the right to audit returns for up to six years. That means that we recommend keeping all receipts related to tax deductions for six years at a minimum.
There are some circumstances when the IRS says you need to keep receipts for longer than three years. The first is if you claimed a deduction for worthless securities or a bad debt deduction, in which case you should keep your receipts for seven years. Employment tax records must be maintained for four years, and if you do not file a return, you should keep your receipts indefinitely. You can find the full details on the IRS website.
Keeping Receipts is Important for Tax Filing Needs
Maintaining complete records of deductible expenses and tax credits is necessary if you itemize deductions on your taxes. If you keep your receipts, tax audits will go smoothly, and you'll be able to claim all deductible business expenses. Of course, this is much easier if you have a qualified bookkeeper helping you run your business.
Do you need assistance reviewing your receipts and claiming tax deductions? CMP is here to help!